Storytelling
Remembering
Ragin'
More than 400 members of the University community inked words of encouragement and inspiration on their bodies recently as part of the Dear World College Tour.
Dear World asks participants to turn their bodies into billboards to reveal funny, poignant or powerful reflections of their personalities and life stories.
Storytelling
Remembering
Ragin'
The Cajundome incorporated pieces of Ragin' Cajuns athletics history into its recent $22-million renovation.
Archival images and banners spotlighting standouts from the University's basketball program give visitors something to peruse before they view the building's newly redesigned court that brings the campus' iconic Cypress Lake into the Cajundome.
Storytelling
Remembering
Ragin'
Public history students are harvesting the region's past and placing their crop at the public's fingertips.
The "History Harvest" program encourages residents to share artifacts that illustrate what life was like here over the past two centuries and earlier. Students digitize the objects and add the images to an online repository.
November 17th, 2017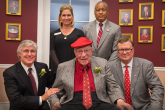 The University of Louisiana at Lafayette has recognized an oilfield innovator and a medical entrepreneur as its 2017...
Read More ➝
November 16th, 2017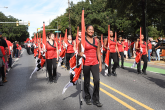 Homecoming Day starts with runners lacing up their sneakers for the Ragin' Road Race. The 5K will start at 8 a.m. at...
Read More ➝
November 15th, 2017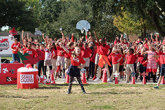 Schools and businesses displayed their Louisiana Ragin' Cajuns spirit and pride this week. They were recognized...
Read More ➝
November 27th, 2017
This kick-off event is part one of the ring ceremony. During the event, the rings will be placed into a UL-customized...
Read More ➝
November 28th, 2017
The official ring ceremony where ring recipients will be formally recognized and presented their ring by University...
Read More ➝