Home Football Game - Ragin' Cajuns vs. New Mexico State
Saturday, November 2, 2013 - 4:00pm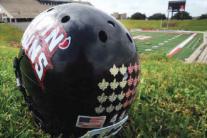 Saturday, November 2
Cajun Field @ 4 p.m.
Saturday's game will serve as the 68th annual Homecoming contest for Ragin' Cajuns with alumni returning to Lafayette for a weekend of activities.  The Cajuns own a 39-26-2 record in Homecoming games, including a 1-0 mark against New Mexico State, toppling the Aggies, 43-26, in 1995.
This week's game marks the eighth series meeting between Louisiana and New Mexico State with the Cajuns owning a 4-3 series lead. The Cajuns won the first three meetings, claiming home wins in 1975, 1980 and 1995. The Aggies were members of the Sun Belt from 2001-04 with the NMSU claiming three of the four games. The Aggies left the Sun Belt after the 2004 season and the two teams have not met since, though that will end as NMSU joins the Sun Belt in 2014 as a football member only.