Friends of the Humanities presents: Faulkner and Flannery: Exploring the Southern Gothic
Wednesday, January 22, 2014 - 6:30pm

to

Wednesday, February 19, 2014 - 8:30pm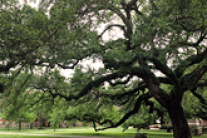 (Lafayette, LA) The Friends of the Humanities invite all to attend a "Books and Films" course exploring the Southern Gothic through the iconic writing of William Faulkner and Flannery O'Connor. The class will be taught by Dr. Mary Ann Wilson, professor of English at UL Lafayette. Dr. Wilson's areas of expertise are nineteenth- and twentieth-century American literature, Southern literature and women's studies. Classes will meet on Wednesdays from 6:30 to 8:30 p.m. in Griffin Hall, Room 201 on the UL Lafayette campus, beginning January 22nd, 2014 with the last class on February 19th. The cost is $75 for Friends of the Humanities members and $100 for others. 
Join us as we experience these Southern greats! We will read short stories from Flannery O'Connor's "The Life You Save May Be Your Own" as well as several of Faulkner's short stories and the novel, As I Lay Dying. Readings will be enhanced by film clips, YouTube material and other relevant materials about the authors themselves. There will be no tests for this course. Students are just invited to read, discuss and enjoy! Those interested are invited to contact Dr. Mary Ann Wilson at 337.298.0406 or email:  maw0383@louisiana.edu.
This is the sixth annual Books and Films course taught by Dr. Mary Ann Wilson at the request of Friends of the Humanities.  Friends of the Humanities will celebrate their 25th Anniversary this Spring! The organization was established in 1989 as a non-profit dedicated to: enhancing the role of the interdisciplinary humanities at UL Lafayette and in Acadiana; generously providing various means of support to the College of the Arts and the College of Liberal Arts; and strengthening the resources of the University of Louisiana at Lafayette's humanities program.