Friends of the Humanities Hosts An Evening with Pulitzer Prize Finalist Writer Luis Urrea
Sunday, November 9, 2014 - 4:30pm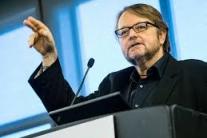 The Friends of the Humanities is pleased to invite all to an evening with Pulitzer Prize finalist Luis Urrea Sunday, November 9th at the Petroleum Club Ballroom.  The social will begin at 4:30 with dinner to follow at 5:30.  The Friends are delighted to welcome Urrea home to Acadiana where he served as the 1996 Writer in Residence at the University of Louisiana at Lafayette.  Sunday evening, he will discuss the relationship between his writing and his search for identity. 
Born in Tijuana, Mexico to a Mexican father and an American mother, Urrea has published extensively in all the major genres. The critically acclaimed and best-selling author of 13 books, Urrea has won numerous awards for his poetry, fiction and essays. The Devil's Highway, his 2004 non-fiction account of a group of Mexican immigrants lost in the Arizona desert, won the Lannan Literary Award and was a finalist for the Pulitzer Prize and the Pacific Rim Kiriyama Prize. An historical novel, The Hummingbird's Daughter tells the story of Teresa Urrea, sometimes known as the Saint of Cabora and the Mexican Joan of Arc. The book, which involved 20 years of research and writing, won the Kiriyama Prize in fiction and, along with The Devil's Highway, was named a best book of the year by many publications.
For more information, please contact the Friends of the Humanities at foh70505@gmail.com or phone (337)981-7236.  Friends of the Humanities was established in 1989 as a non-profit organization dedicated to:  enhancing the role of the interdisciplinary humanities at UL Lafayette and in Acadiana; generously providing various means of support to the college of Liberal Arts; and strengthening the resources of the University's humanities program.
Primary sponsor:
Friends of the Humanities
Directions:
The Petroleum Club Ballroom - 111 Heymann Blvd, Lafayette, LA 70503
Ticket information:
Tickets are $30 for open seating and $35 for reserved seating.  Call 280-3212 for information or tickets.