Annual Flora Levy Lecture: 'George Rodrigue: Painting to the Frame'
Wednesday, September 23, 2015 - 7:00pm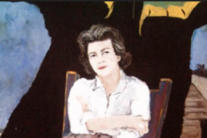 "George Rodrigue: Painting to the Frame" is the title of an upcoming lecture given by William Pittman Andrews, Executive Director of the Ogden Museum of Southern Art in New Orleans, as part of the annual Flora Levy Lecture Series at the University of Louisiana at Lafayette, hosted by the UL English Department through an endowment of the UL Lafayette Foundation.
For over twenty-five years, George Rodrigue painted portraits of a group of distinguished authors and academics chosen to give the annual Levy Lecture. Now the work of Rodrigue himself will be the focus of the upcoming program.
The phrase "Painting to the frame" was coined by Rodrigue and evokes a custom early in his career of using frames reclaimed from various sources, such as antique stores and flea markets, many of which are now recognized as examples of fine craftsmanship adorning paintings of great historic and cultural significance. Andrews says that the phrase can also refer to Rodrigue's ability to maximize every inch of the canvas to create images packed with color, form, energy and narrative of endless ingenuity.
In this spirit, the lecture focuses on the continual inventiveness of Rodrigue as a painter and follows the evolution of his work as it relates to concepts of region, style, period and media in the tradition and history of artistic movements ranging from the Italian Renaissance through the Modern era.
The lecture will take place at Angelle Hall on the UL Lafayette campus on Wednesday, September 23rd, at 7 p.m.
An exhibit of some of Rodrigue's paintings of former Flora Levy speakers on loan from the UL Foundation and the Rodrigue Foundation in New Orleans is currently open at the Paul and Lulu Hilliard Art Museum on the UL-Lafayette campus until January 2nd. For more information, call (337) 482-2278.
Primary sponsor:
Department of English
UL Lafayette Foundation