ULS Day at the Capitol
Wednesday, April 19, 2017 -

11:00am

to

2:00pm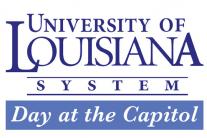 The 2017 Louisiana Regular Legislative Session will begin this month and run until the start of June. Let's gather April 19th in Baton Rouge to discuss with our state leaders their financial support of higher education, which has hundreds of millions of dollars of economic impact in our state and region.
Also, we can convey the importance of continuing TOPS funding.
All students, parents and alumni are invited to join us for a few hours at the Capitol. Please sport Ragin' Cajuns colors; wear a red polo-style shirt or similar attire.
Events are free and include:
• Luncheon with Louisiana Legislators – 11 a.m. to 12:45 p.m.
at the House of Representatives Alario Patio
For the luncheon, please RSVP by Monday, April 17, to ULSEvents@la.gov
• ULS Day and UL Lafayette photos – 1 p.m.
on the Capitol steps
• ULS Day Recognition – 1:30 pm
in the House Chamber
#InvestULS
#InvestULLafayette
#SaveTOPS
Primary sponsor:
University of Louisiana at Lafayette
Event target audience:
Alumni
Faculty
General public
Parents
Staff
Students
Event open to:
Alumni
Faculty
General public
Parents
Staff
Students