Celebrating
Earning
Ragin'
Something extra. That's what Lagniappe Week is all about. Each spring, students take a break from studying with fun activities: canoe races in Cypress Lake, the annual lake jump and a crawfish boil. Watch highlights from Lagniappe Week 2013!
Celebrating
Earning
Ragin'
Our Ring Ceremony celebrates the bond between all UL graduates. Students and past graduates are presented with the rings they ordered by President Savoie during the ceremony.
The night before the ceremony, the rings are loaded onto a custom-built metal pirogue to spend the night on the water, guarded by students. Watch highlights of the 2013 spring ceremony.
Celebrating
Earning
Ragin'
Whether you graduated in 1963 or 2014, Homecoming gives Ragin' Cajuns a perfect opportunity to reconnect with campus. During Homecoming Week, students, faculty, staff, alumni and fans can take part in activities such as Paint the Town Red, Yell Like Hell, an alumni tennis or golf tournament, or the Ragin' Road Race.
April 23rd, 2014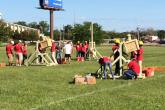 Lafayette Parish high school students are getting a taste of college. UL Lafayette partnered with Gear Up to introduce...
Read More ➝
April 22nd, 2014
The State Library of Louisiana through its Louisiana Center for the Book announced Louisiana poet Darrell Bourque as...
Read More ➝
April 21st, 2014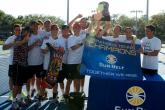 The 64th-ranked Louisiana Ragin' Cajuns men's tennis team recorded its 20th victory of the season and 10th straight on...
Read More ➝
April 26th, 2014
Saturday, April 26 at Hotel Acadiana - 1801 W Pinhook Rd. Social Hour and Silent auction: 6:00 – 7:00 Opening act...
Read More ➝
April 28th, 2014
Lagniappe Week, one of our most beloved campus traditions, is coming to students April 28, 29, and 30. The week starts...
Read More ➝
April 28th, 2014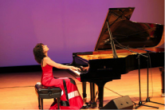 Dr. Tanya Ekanayaka will give a solo piano concert at the Ducrest-Gilfry auditorium in Angelle hall (school of music)...
Read More ➝