Digging
Discovering
Ragin'
UL Lafayette students and faculty members uncovered 7-million-year-old camel bones at Fossil Lake south-central Oregon.
The beast was 14 feet tall and resembled a modern-day giraffe. The group unearthed more bones of a single camel than have been found anywhere in the United States.
Digging
Discovering
Ragin'
Anyone who's curious about what life was like thousands to millions of years ago can get a glimpse of the past at the Lafayette Science Museum.
Some UL Lafayette geology students clean, examine and catalog fossils for research and display there.
Digging
Discovering
Ragin'
Attendance at the Lafayette Science Museum more than doubled when University-owned fossils, minerals and gemstones went on display.
Thousands of items – collected over about 50 years – were moved there as part of an arrangement that benefits the museum, the University and the public.
August 23rd, 2017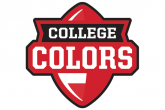 Ragin' Cajuns fans will have extra incentive to display school spirit and pride on Friday, Sept. 1. They will observe...
Read More ➝
August 17th, 2017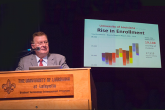 The University of Louisiana at Lafayette continues to protect its academic core, increase enrollment and graduation...
Read More ➝
August 7th, 2017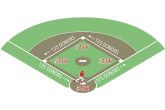 The Home Run Challenge, a fundraising campaign for M.L. "Tigue" Moore Field at Russo Park, reached home plate two...
Read More ➝
August 24th, 2017
United Blood Services will be on campus Wednesday, August 23 & Thursday, August 24 from 9:00 a.m. - 3:00 p.m. We...
Read More ➝
August 27th, 2017
Free admission and free posters Commemorative T-shirts (first 1000 fans) UL Cheer, Ragin Jazz, Autographs and more...
Read More ➝
August 27th, 2017
In the interest of public safety and following the National Center for Spectator Sports Safety and Security (NCS4)...
Read More ➝