Treasuring
Learning
Ragin'
Cypress Lake is a treasured campus landmark. It is a carefully controlled and delicate wetland teeming with plants and wildlife such as bass, catfish, red-ear turtles, blue herons, and, of course, alligators.
UL Lafayette was the first university in the country with such a wetland on campus.
Treasuring
Learning
Ragin'
Students at UL Lafayette have the greatest classroom in the world for learning about wetland ecosystems and management—Cypress Lake.
By observing, examining, and engaging with this environment, students understand the balance of nature and what humans can do to protect it—and help it thrive.
Treasuring
Learning
Ragin'
Every year students, faculty, and staff gather for canoe races in Cypress Lake during Lagniappe Week. Two per canoe, they paddle as quickly as they can through the water, around the cypress trees, and back to shore.
May 17th, 2019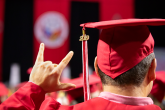 The numbers were telling at the University of Louisiana at Lafayette's 161st Commencement ceremonies Friday at the...
Read More ➝
May 16th, 2019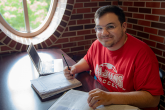 Zachary Wells is in an elite group. The University of Louisiana at Lafayette senior is among just 16 percent of...
Read More ➝
May 15th, 2019
Jacob LeBlanc lives in double-time. At age 19, he shaved a year from a four-year program to complete a bachelor's...
Read More ➝