Welcoming
Building
Ragin'
A brick wall, 100 feet long and six feet tall at its peak, has been built in front of Martin Hall.
It has been dubbed the Welcome Wall because it's our way of saying we're glad you're here, whether you're a visitor or a member of our Ragin' Cajun family.
Welcoming
Building
Ragin'
The renovated and expanded Student Union is a linchpin on campus.
Across the street from new residence halls and adjacent to Cypress Lake, the U offers lots of dining options, meeting spaces, a post office and the Ragin' Cajuns Store.
Welcoming
Building
Ragin'
What's 14 feet tall, weighs 3,000 pounds and embodies our Ragin' Cajuns spirit? A 3-D, steel fleur-de-lis. It's part of a fountain that's the centerpiece of the Quadrangle, which was recently redesigned with the help of some talented UL Lafayette students.
Thanks to LED lighting, it can become a kaleidoscope of colors at night.
February 16th, 2018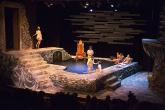 A travel website ranked Lafayette among "America's Most Artistic Towns" – and the University of Louisiana at Lafayette...
Read More ➝
February 14th, 2018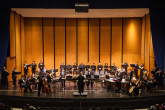 Add history to the University of Louisiana at Lafayette Wind Ensemble's repertoire. The University's concert band will...
Read More ➝
February 5th, 2018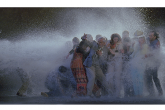 Regional mythologies and human reactions to natural disaster will be among themes explored as part of the Paul and...
Read More ➝
February 21st, 2018
Poetry Lecture  by Professor Emerita Catharine Brosman, Tulane University.  "Four Independent Louisiana Poets" Among...
Read More ➝